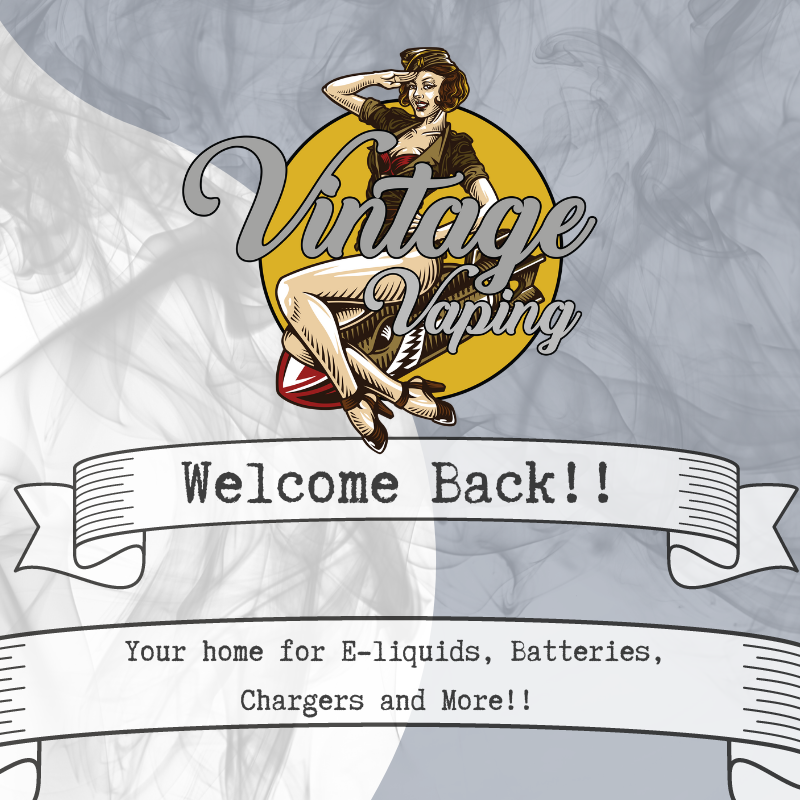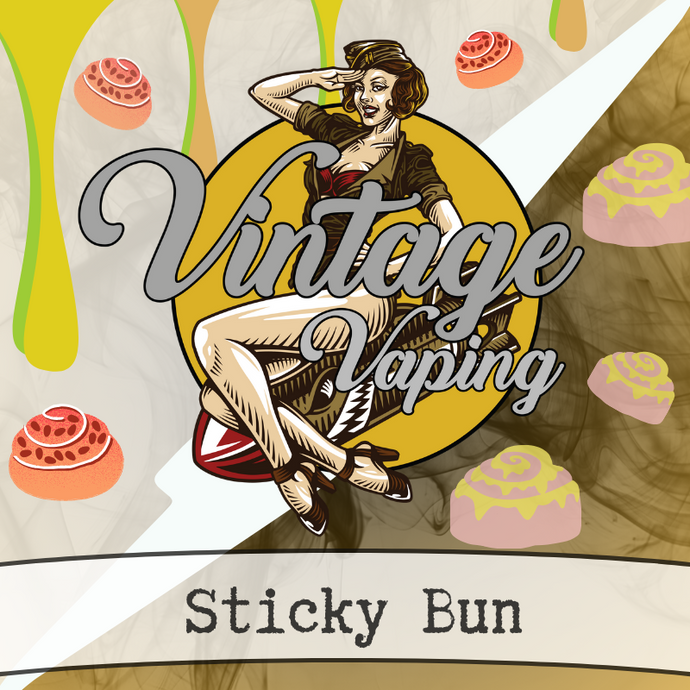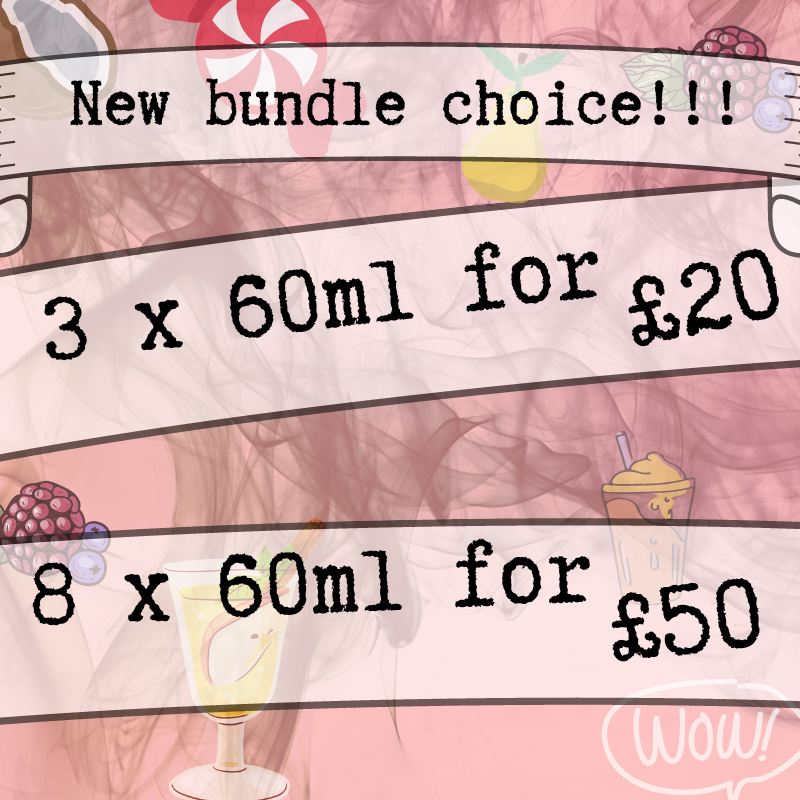 How do they come???
Due to the TPD we'll be switching over to Nic Shots for those of you that like a little Nicotine in your liquids.
We will still be stocking the larger bottles, however leaving space to allow for the addition of the Nic Shot(s).
I will be increasing our concentrate levels by 20%, therefor there will be no flavour loss when diluting with the Nic Shot.
You simply squeeze the Nic Shot into the e-liquid bottle (30/60/120ml), replace the cap, shake for a few minutes and leave to stand.
The prices won't change dramatically, for those of you who don't take the nicotine it'll become slightly cheaper, for those of you who do take nicotine, the Nic Shots will be available seperately.
I have created a nice little display, to the right, on how it will work, and each Nic Shot has a peel over label indicating exactly how to use it :)
If anyone has any questions, please please feel free to send them my way :):)
Thanks again for all your fantastic feedback and great support :)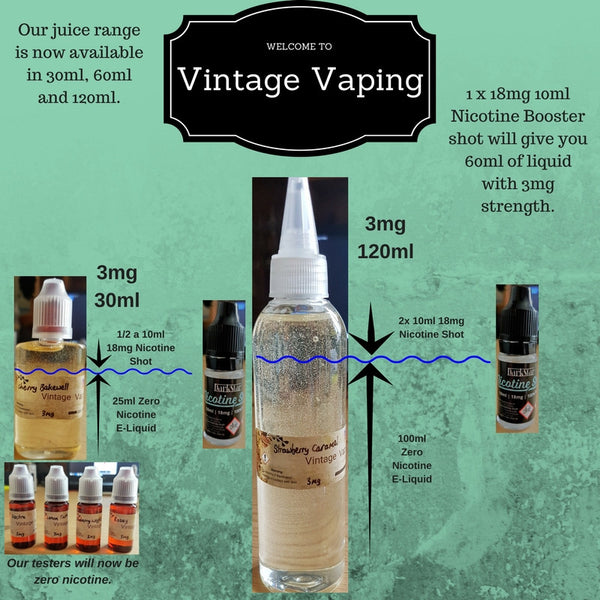 Testimonials
Hands down the best liquid I have ever brought! would never buy any liquid anywhere else! fantastic pricing and so many options and superb service

Tom Brett
Top bloke, top service, always around to help, and has a flavour for everyone. 👍

David Arnett
I have recently just quit smoking and was completely overwhelmed with all the options with Vaping. I started off with entry level e cigarette but found these too harsh or didnt give me what I needed.After 20 years smoking I really wanted to stop but I was never going to be able to just like that. A good friend of mine told me about Vintage Vaping and from the first message I sent ,which I had a reply within 10 minutes I found that even though I didnt know what I wanted James was ready to help me through all the options available to me. A first class service from start to finish and the products are amazing. Thank you

Daniel Edwards
Fantastic prices, excellent delivery and quality liquid with flavours that you can really taste!

Tilly Smith-Gee
My first introduction to James and Vintage Vaping was after an SVC meet up I ended up missing out on.
The samples he dropped round were just amazing and so full of flavour.
Vintage Vaping is my go to now for amazing juices and what is probably the best choice and value for money.
The samples are a perfect way to try juices that may not have considered before and are always greatly received.
His flavour profiles are just getting better and better all the time.
So thank you very much mate, it's first class all round, keep up the good work!

Steve Maw
Sitting at home on a Tuesday night and realised I was running low on juice. So decided to message vintage vaping (who was recommended by a friend) and got a reply in less than an hour. Even better I was able to go and pick up the flavours I wanted that evening. Brought them home, gave them a whirl and the taste is great and vape well.
Very happy customer and will be using vintage vaping from now on. ���

Luke Russel
The best liquids I have ever bought fantastic flavours fantastic service and excellent prices plus James is a very nice guy

Sue Mcghee
I have placed two orders now and both have arrived quickly and without fault. For my first order James was very helpful.

Flavours and liquids are top notch and I wouldn`t hesitate to recommend Vintage Vaping to anyone who is looking for great service and top quality liquids.

Happy vaping guys and girl

Ben Chapman
Outstanding service.
E liquids are fantastic.
I buy all my liquids from here.
James really cares about the customer and the quality of the E liquids.
I would recommend any
vaper to try vintage vaping.
You won't regret it.

Andi Morris
James is the most reliable person i have ever had the pleasure of doing business with. Went out of his way to hand deliver an order that was lost by royal mail. With no hesitation. Someone who cares that much about customer service is hard to find, and will allways have my custom. His liquids are amazing one of the best i have yet to find for flavour and price. Dont really ever leave reviews but feel someone who cares about their business as much as he does deserves credit.

Ben Price
Excellent juice. Got 70ml sample to try and omg its awesome some odd flavor profiles but my god don't let that put you off flavor for days

Anthony Nash
Well, what can i say, having responded to a offer of free samples to try I can now safely say that the juices are so good.
The blueberry waffle and the strawberry and banana yogurt are out of this world, my 2 favourites by miles. Having placed an order I was then sent another 3x 10ml samples the lemon tart was awesome and will be being ordered next time I place one. Always respond to messages and always willing to help.
I've found my juice supplier, and if you haven't tried vintage vaping juices, then I suggest you do, you WONT be disappointed, vape on people ���

Dave Goldsmith
Excellent juices, strong flavours. Easy to order and quick delivery. Wouldn't buy any juices from elsewhere now. Would defiantly recommend. My fav has to be clear slush and lime slush.

Kimberly Peck
Oh my god ! Liquids come today fast delivery and my god they are out of this world and smell so good , had to add nic to the ones I ordered letting them settle , but they threw in a freebie bottle of lemon tart and its unreal and I don't normally like lemon tart ! So impressed !

Gregg Maughan
Ordered some samples after hearing good things about Vintage Vaping - Fast delivery and the juices are top notch!! Lemon tart is incredible, absolutely spot on, and sweet grape is awesome - my search for a reliable, top quality juice supplier is over, Vintage Vaping for me

Tracey Goose
What's there not to like. Great flavours and lots of choices. Prompt and efficent service. Would highly recommend ...I would not think of going anywhere else now.

Pat Thomas
Great service amazing liquid full of flavour great prices can't recommend vintage vaping anymore and anyone who hasn't tried passion fruit slush needs to try it straight away best liquid I've ever tasted

Alfie Harding
Fallen in love with Stwarbmelon and the Toffee Popcorn...Well done James.. you know the trouble I have had trying to find my perfect vape...thanks to you I have found some flavours that I love and still so many samples to get through...I think I'm gonna be spoilt for choice...Well done again and keep up the good work.

Sue Watson
Well what more can I say that hasn't been said already! Amazing juices, amazing prices, amazing customer service, prompt delivery I can't ask for any more than that! And I'm a hard man to please lol vintage vaping are the place to go to and I'll look forward to working my way through the menu

Dan Watts
Omg ive missed the stawbmelon, finally got me some after trying a sample! It's like heaven in a vape juice 😍

Lisa Heale
Tried a lot of vintage vaping and I have to say they are one of if not my favourite juice supplier the juices are spot on every time I genuinely can't find any faults with the juices they are perfection in my eyes great work guys

Mitch Williams
I was really impressed with these juices. I didn't expect them to actually be a premium tasting juice for the price. Eden is one of the best things I've tasted, and vectra is a great custard flavour

Jon Crofts
Amazing Juice and customer service is second to none! I have already recommended a number of friends who have already made purchases Vintage Vaping is my go to juice. I have over 45 bottles of premium Juice thats not been touched since ordering.

Keep up the good work VV!

Jason Powell
Amazing flavours! Blueberry waffle is outstanding, gone through a lot of liquids in my many years of vaping and so pleased I found vintage vaping, I'll be ordering more shortly �

Emma Tuschick
Amazing quality. Can't be matched. Everything tastes and smells the best it possibly could. Out of this world good. Buy and you will not regret. Could give it six stars, was it possible

Matt Dobrovolski
Really fast delivery.flavours are amazing and really spot on.great prices aswell.and really helpfull guy when asking what flavours to try.deff recomend

Zoe Tourle
Received my first order today, and couldn't be more satisfied. Quick service and great tasting flavours. Well done James! You were recommended by a friend at work and I will recommend all my vaping pals to use you!

Rick Murrell